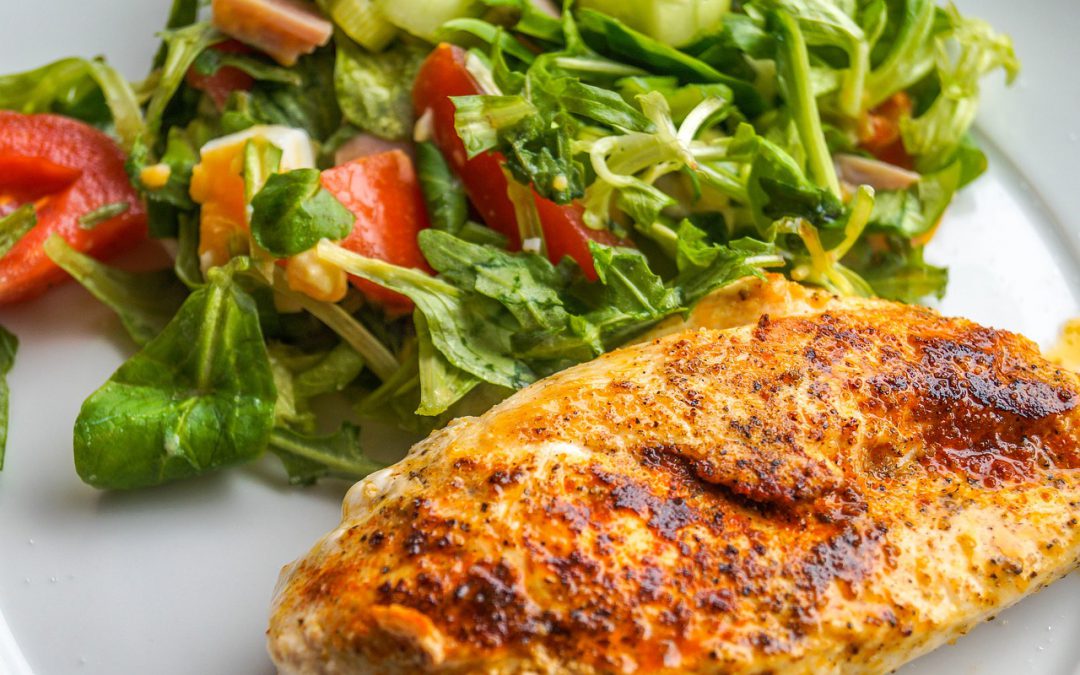 Okay, okay.  It's more like 8 hours of eating, since I intermittent fast (basically just skip breakfast).
One of the things that helped convince me that I could handle this diet thing was 24 hour eating videos.  I didn't actually video myself eating today, but I ate what seems like an enormous amount and still kept it under 1800 calories.  So I'm going to share all of the food that I ate today.  If you're new to this whole tracking your calories thing, try logging the food here in MyFitnessPal to check my work.
I woke up at 7 am and then went back to sleep until 8.  Then I took care of the kids.  The kids and I started playing computer games until 1pm.
Snack/Breakfast
At 1:30, I had a Diet Cherry Dr Pepper and a banana.  It was 121g without the peel.  That was enough to stave off my hunger for another hour while I got the kids fed and made lunch for myself.
Lunch
By the time lunch was done, and I sat down to eat, it was 2:30.  I had
400g of chicken breast (weighed raw).  Slice it lengthwise so you get two thinner pieces.  Salt both sides and sprinkle with Ranch powder.  Sautee said chicken in 2g of Kerry Gold butter.
369g of Russet potato wedges. (I estimate 1 tsp of olive oil)
54g of Ketchup
100g steamed broccoli
One Choceur (Aldi's brand) Milk Chocolate Caramel
Macros for lunch
1051 calories (including the banana)
107g protein
123g carb
13g fat
Dinner
I actually planned out dinner before lunch.  Corban had asked for Taco Friday a couple days ago, so I already had a pretty good idea of what I was going to eat. Instead of a taco, I made mine into taco salad.  Started cooking around 6:45 and finished eating around 7:30.
4 oz organic grass fed ground beef (from Aldis) with taco seasoning and 25g of onion
Finlandia reduced fat cheddar (2 slices)
Tomatoes 100g
5 black olives (sliced)
Friendly Farms Brand Nonfat Greek Yogurt 80g (different brands of Greek yogurt vary wildly in their protein/sugar content; this brand has the most protein and least sugar of all I've tried)
Little bit of taco sauce
Kirkland Organic Tortilla Chips 28g
I didn't track the taco seasoning or the lettuce.  This is a great flavorful (albeit relatively small meal).  You could use sour cream or low fat sour cream, but I use the Greek Yogurt mostly for its protein content to hit my macros.
Macros for Dinner
Calories 594
Protein 45g
Carbs 29g
Fat 34g
Dessert
After dinner, I went for a walk.  After walking, I had dessert (about 8:30).  I'm still 10g of protein short, so it's time to Release the Secret Weapon!!
Halo Top Ice Cream!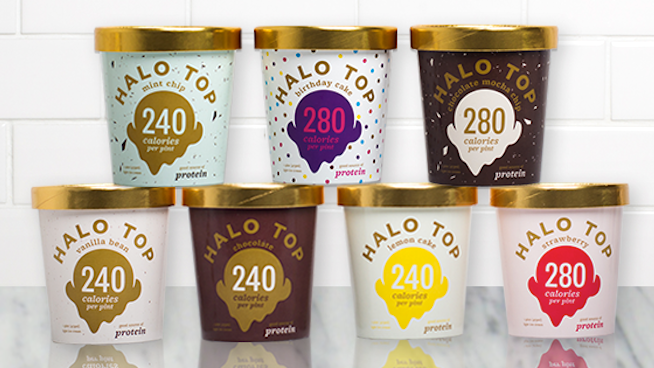 This stuff is some kind of magic.  One cup of ranges from 120-180 calories (about half the calories of normal ice cream) AND it has relatively high protein (10-14g per cup).  AND it tastes really good.  Here in South Florida, you can buy it at Target, Walmart, and Publix.  Someone I know in Tarpon Springs says his Costco carries it (sadly, mine does not).  People also report buying it at Krogers (we don't have any down here).
I've been working my way through the flavors.  Tonight was S'mores.  I rank it third of the three flavors I've tried so far.  It has small chocolate chips in it, and they get stuck in my teeth (same reason I don't like mint chip).  So far, my favorite flavor is cookie dough followed by peanut butter cup.  Once I've tried all the flavors I can get locally, I'll post my full ranking.
Macros for Dessert
Calories 160
Protein 10g
Carbs 32g
Fat 5g
Halo Top Alternatives
Okay, you don't actually have to buy specialty ice cream.  You could have gotten the same effect from eating 50 more grams of chicken breast and 2 Oreo cookies.  Regular ice cream can also be an option, but you only get to have half a cup (usually about 100g) for 130 -160 calories.  The nice thing about the specialty ice creams is that you can eat more of it than traditional ice cream, so you feel less deprived.  And the extra protein does mean that you can be a bit more flexible with the rest of your day.
So here are a couple other low calorie Ice Creams/Yogurts
Yasso makes several different products.  The one I've had is a cookie dough frozen yogurt bar.  It's 100 calories and has 5g of protein.  Tastes very good.  They have them at Walmart and BJs near me.
Englightened produces a low calorie, high protein ice cream and ice cream bar.  I haven't personally eaten them yet, but a friend says he likes them better than Halo Top.
Final notes
My total calorie count for the day is 1771 calories with 159g protein, but I'm probably over estimating my fat intake since I drained the taco meat and overestimate my oil spray.  On the other hand, I didn't log the Ranch powder, taco seasoning, or lettuce.