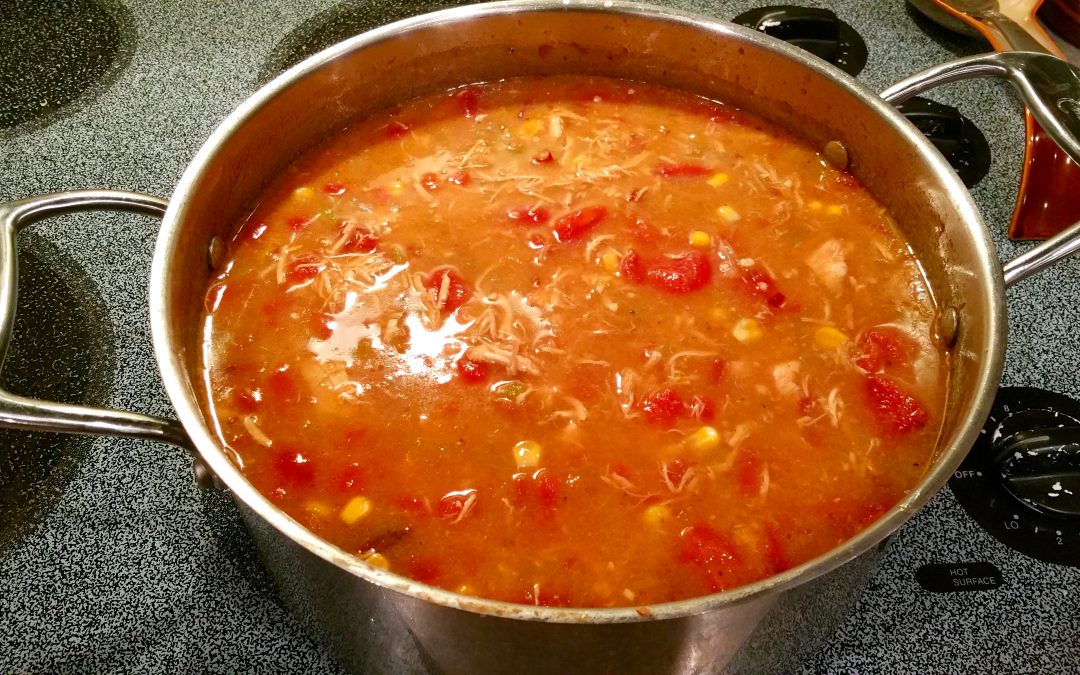 Who doesn't like chicken tortilla soup?  Nobody.  That's who.  So let's make some delicious high protein, soup.
Step 1.  Make start with my Taco Shredded Recipe
Step 2. Make the soup
Ingredients:
1 tbsp oil
1 medium onion diced
1 tbsp minced garlic
1 can crushed tomatoes (28 oz)
3 tbsp masa (more for a thicker soup) (Masa is corn flour, NOT corn meal.)
2 ancho chiles (dried poblanos)
1.5 lbs taco shredded chicken*
1 can corn (Or 2 cups frozen corn)
8 cups chicken stock
Cilantro
Note: I usually make it with a pound and a half of taco shredded chicken for the kids and add extra chicken when I serve it for me.  But you could start with more chicken if you like.
Directions:
Sweat onion in 1 Tbsp olive oil (medium heat with a pinch of salt until soft and translucent)
Add garlic and sweat another minute or two (don't let it burn)
Add green chiles and allow the juice to evaporate a bit before doing the next step, or it will clump.
Add masa and stir until evenly coated
Add tomatoes and then pour in chicken stock and being to a boil
Rip up chiles and toss them in (or cut them with scissors)
Add chicken
Turn down to a simmer for 10 minutes
Add corn, simmer 10 more minutes
Add lime juice
Salt and pepper to taste
Serve with tortilla chips, cheese, sour cream and cilantro (Nonfat Greek Yogurt works pretty well instead of sour cream if you just have to up your protein)
 And voila!  Or should I say Olé!  Chicken Tortilla Soup fit for a king with macros to boot.
To log it in MyFitnessPal,
1. Create a recipe
2. Log all of the ingredients
3. Measure the total volume of soup in cups or mL or whatever you use.
4. Now when you serve it up, just log the number of cups you dish out.
5. Log extra chicken and garnish separately.