Who knew that Swiss chard was amazingly awesome and delicious?  I didn't…until we got some from one of those "meal box" services.  So I had to cook it, and it turned out to be so good that I've made the dish four more times.  So without further ado, here's the recipe.  I've modified it to have slightly less fat (as I prefer to eat mine in the form of chocolate).
Ingredients:
One bunch Swiss Chard (rainbow or single color)
8 oz of cubed butternut squash (we use the frozen organic stuff from BJs)
Onion or shallot diced
One clove garlic minced
2 oz shredded gruyere cheese
1/2 cup of milk (preferably whole)
1 Tbsp Olive Oil
1/2 cup panko bread crumbs
Thyme
Salt and Pepper
Directions:
Preheat oven to 425 degrees
Cut the stems off of the Swiss chard and chop into pieces about the same size as the squash or onion
Heat the olive oil over medium heat in a large skillet.  Add the chard stems and onion and a large pinch of salt.
While the stems and onion saute, slice the chard leaves into smaller pieces (I usually go about 1.5 – 2 inch squares)
When the stems and onion has softened, add the garlic, and thyme.  Stir until squash begins to soften.
Add the huge pile of chard leaves and more salt.  Turn until it wilts (about 2-3 minutes)
Stir in the gruyere and milk. Turn the heat to low and allow to thicken a minute or two.
Taste the sauce.  Add salt and pepper to taste.
Transfer the mixture to a small casserole dish and top with panko bread crumbs.
Cook covered for 10 minutes and then uncovered for 5-7 minutes until bread crumbs are brown
Remove from oven and let stand about 5 minutes before serving.
You're welcome.
I usually eat half the recipe.  Macros on this are approximately:
365 calories
16g protein
36g carbs
19g fat
And yes, you just ate half of that enormous bunch of greens.  Don't you feel so healthy?  Almost virtuous.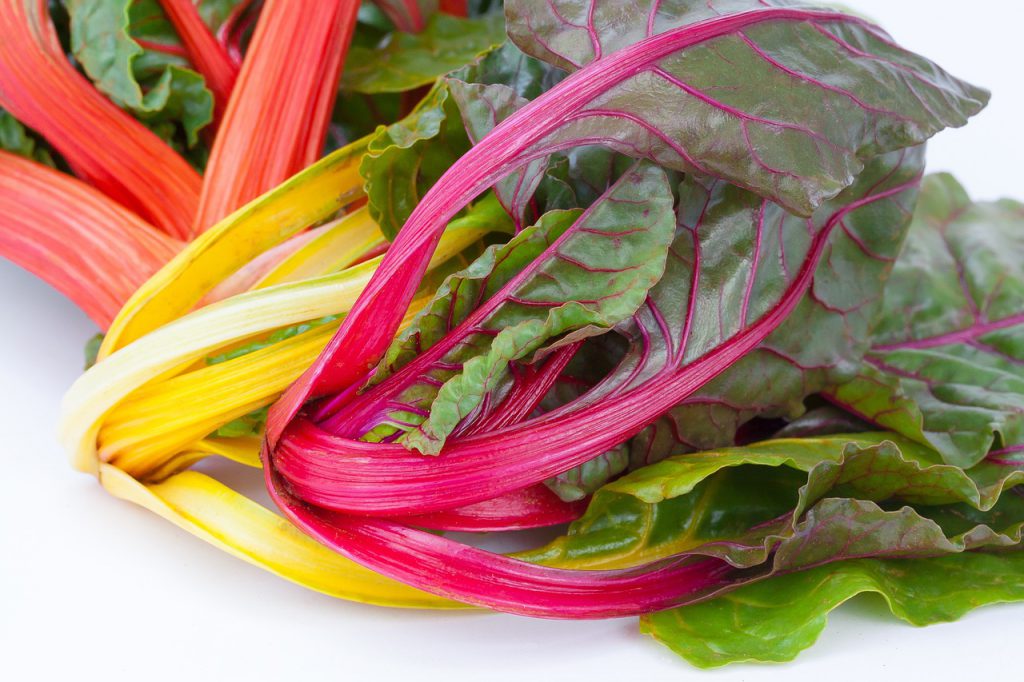 Earlier I mentioned that this came from a food box service.  I have tried several of these including HelloFresh, Blue Apron, Sun Basket, and Plated.  By far, my favorite one is Plated where this recipe came from, and the top photo is from their recipe card.  Apparently there's no way for me to refer you to them and get credit for it, so this post is free of commercial interest.
Subscribe for Free Updates
Learn how you too can be buff for the beach.
Thank you for enrolling.